During the Bulgarian Pharmaceutical Days 2015 ProViotic® was awarded with the special prize "Bulgarian innovation" for 2015.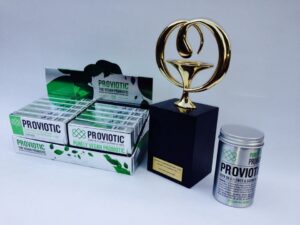 This year was the ninth year in a row that the Bulgarian Pharmaceutical Union (BPU) organises Bulgarian Pharmaceutical Days (BPD). The time period that this event is carried through, is relied to the Day of the master pharmacists - Enyovden (24th June).
The aim of Bulgarian Pharmaceutical Days is to gather representatives from the pharma sector and to give them the possibility to discuss subjects, relied to this sector's issues. Among the participants are academics, master pharmacists, producers, distributors, representatives of relative foreign organisations, other health specialists and even pharmacy students.
Generally, over 1200 master pharmacists take part in the Bulgarian Pharmaceutical Days as well as leading companies from the 'pharma' sector, which present their achievements and products. Among the forum's lectors throughout the years were not only representatives of the scientific community or of the Pharmaceutical group of the European Union and of professional organisations from Bulgaria and other member states of the EU, but of such of high-level of the Bulgarian legislation and executive. This event receives the highest accreditation by the Quality Committee of BPU possible and is a continuing education for master pharmacists in Bulgaria.
Unlike the previous years, the format of the Bulgarian Pharmaceutical Days in 2015 is different, starting on 19th June with the opening and Ceremony of yearly awarding by BPU for a product of the year in various pharmaceutical directions. It is then when ProViotic® received the special prize "Bulgarian Innovation" for 2015.
During the next two days the forum continued with a scientific conference and with the yearly specialized exposition - all carried out in Inter Expo Center, Sofia.
Another part of the program was the traditional gala evening for master pharmacists.